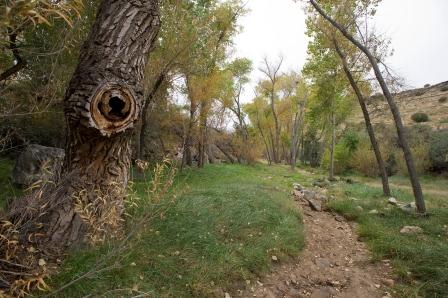 Bridle Creek is a 31-acre fenced riparian habitat located behind the Community Campus at the base of Sanders Mesa. The area primarily is composed of cottonwood and willow trees surrounding desert landscaping. There is a collection of birds and other wildlife in the vicinity. There are two different parking lots and three different entrances into the creek.
Contact | Hugh Jackson | 928.633.6034 | cjackson@fmi.com.
Hours | 5:00 a.m. – 10:00 p.m
Rules and Guidelines
Bridle Creek is a habitat enhancement area. Any activities that damage vegetation or disturb wildlife are harmful to the health of the environment and are prohibited. Please respect the plants and animals and leave the area the way you found it for other visitors to enjoy.
Area Rules:
No camping or overnight use of the area. Area hours are 5 – 10 p.m.

Fires of any kind are prohibited and please dispose of cigarettes properly to avoid starting fires

No dumping of trash or yard waste

No firearms of any kind are allowed, including the carbon dioxide cartridge type such as paint ball guns and air soft guns.

No hunting

Keep dogs on leash at all times

No motorized vehicles of any sort. Traffic in the area is limited to foot traffic and bicycles on designated trails.

Please stay on the designated trails when using the area. Travelling off the trails can cause damage to sensitive vegetation.

Please respect any enhancement projects that are going on in the area. Leave any unknown materials the way you found them and contact the Sheriff's department and the number below with any concerns.
The area may be approved for use by educational groups or for special events.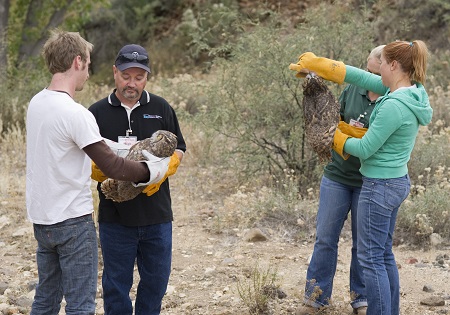 Two young Great Horned Owls and three young Common Ravens have a new, safer home after employees at Freeport-McMoRan's Bagdad operation helped relocate the birds from nests built on equipment scheduled for demolition to make room for new infrastructure equipment.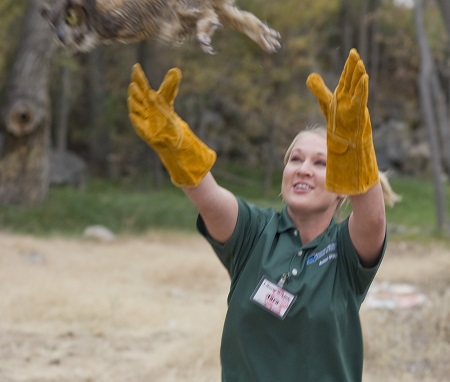 Mine employees suspended demolition activity in the immediate area of the nests and greatly reduced activity in the general area to minimize any disturbance to the birds. The Environmental Department worked to obtain a special permit from the U.S. Fish and Wildlife Service authorizing the collection and relocation of the young birds to a rehabilitation center.
Then, with permit in hand, the Wildlife Team collaborated with Liberty Wildlife, a nonprofit organization specializing in easing human/wildlife conflicts, to collect the birds and move them offsite.
Today, the young birds are doing well and are with foster parents who are teaching them to feed and hunt.
In addition to working with Liberty Wildlife on this effort, the Freeport-McMoRan Foundation recently made a grant to support its environmental science education program in Arizona and parts of New Mexico. The program introduces students to wildlife and activities that convey the importance of the natural world.